Amplify Your Brand with Embroidery: Introducing GoCustom Dropshipping's Embroidery Services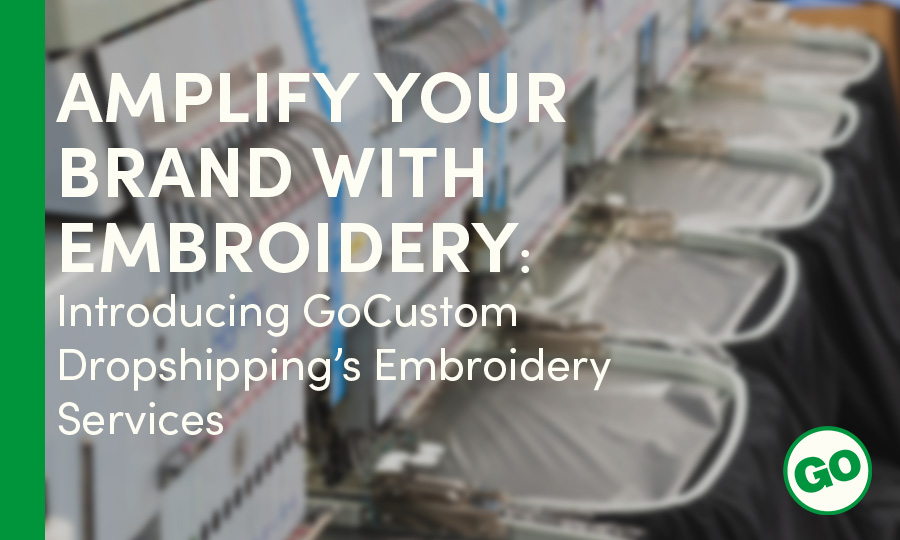 In the dynamic world of fashion and apparel, standing out is critical. One way to differentiate your brand is through unique, high-quality designs – and what better way to achieve this than through embroidery? We are thrilled to announce that GoCustom Dropshipping now offers embroidery services, providing retailers an opportunity to enhance their product line and brand appeal.
The Power of Embroidery
Embroidery adds a touch of sophistication and personalisation to any piece of clothing. It's not just a design; it's a testament to quality craftsmanship. Each stitch tells a story of meticulous attention to detail, enhancing the perceived value of your products.
Moreover, embroidery offers a tactile dimension that print cannot match. Whether it's a logo on a cap or a monogram on a polo shirt, embroidered designs add texture and depth, creating a lasting impression on customers.
Why Choose GoCustom Dropshipping's Embroidery Services?
At GoCustom Dropshipping, we understand the power of branding. As such, we have incorporated embroidery services into our platform to help retailers elevate their branding game.
Convenience at Your Fingertips
Our platform is designed for ease-of-use. With just a few clicks, choose the products you want to be embroidered, select your placement, and upload your design. We handle the rest – from production to shipping, freeing you to focus on growing your retail business. For a detailed guide on how to use our embroidery services, we have a very useful guide to help you out here.
Quality You Can Trust
We pride ourselves on delivering top-notch embroidery services. Our team of skilled embroiderers uses state-of-the-art machines to ensure precise, high-quality results. Plus, we use certified threads that are durable and vibrant, ensuring your designs look great and last long.
Mix and Match: The Advantage of Combining Embroidery and Print
One of the unique advantages of using GoCustom embroidery-on-demand services is the flexibility to mix and match embroidery and print on the same product. This creative approach opens a world of possibilities, enabling you to cater to a wider range of customer preferences and create truly bespoke designs.
Imagine having an elegant logo embroidered on the left chest of a sweatshirt for that touch of sophistication, and complementing it with a bold, large print on the rear for maximum visual impact. This combination of refined and striking elements can create a balanced aesthetic that appeals to various tastes.
This flexible approach is not just about aesthetics, though. It's also about creating garments that resonate with your audience. You can choose to embroider parts of the garment that require a more subtle, classy feel – such as logos or monograms – and use print for larger, more colourful designs that need to stand out.
The beauty of this approach is that it allows you to experiment and innovate. You can test different combinations of embroidery and print, see what works best for your audience, and refine your designs accordingly. This trial-and-error process can lead to surprising discoveries and potentially, the next big thing for your brand.
Moreover, offering products that combine embroidery and print can help differentiate your brand from competitors. It shows your customers that you are versatile, creative, and willing to go the extra mile to provide them with unique products.
At GoCustom Dropshipping, we are committed to providing you with all the tools you need to create the perfect garment. Our easy-to-use platform allows you to seamlessly combine embroidery and print, giving you the freedom to design products that truly represent your brand.
What are you waiting for?
Embarking on your embroidery journey with GoCustom Dropshipping is so easy. Simply create an account, upload your design, and choose your products. Let us help you bring your vision to life, one stitch at a time.
Embrace the art of embroidery with GoCustom Dropshipping and give your brand the boost it deserves. Start exploring our embroidery services today!